Is your home a hot mess?
Fabulous! I have just the book for you.
Looking for the blog post on binder clips in the freezer? My professional organizing business and blog shut down quite some time ago, so that post no longer exists.
However, my home organizing book is still available so if you're looking for a solid, step-by-step plan on how to clear your clutter and organize your home, this is the book for you!
(Spoiler Alert: You won't have to get rid of all of your worldly possessions to make it happen either!)
From Hot Mess to Hot Damn!
A 21 Day plan to overthrow overwhelm, conquer clutter, and organize your home for good (instead of evil.)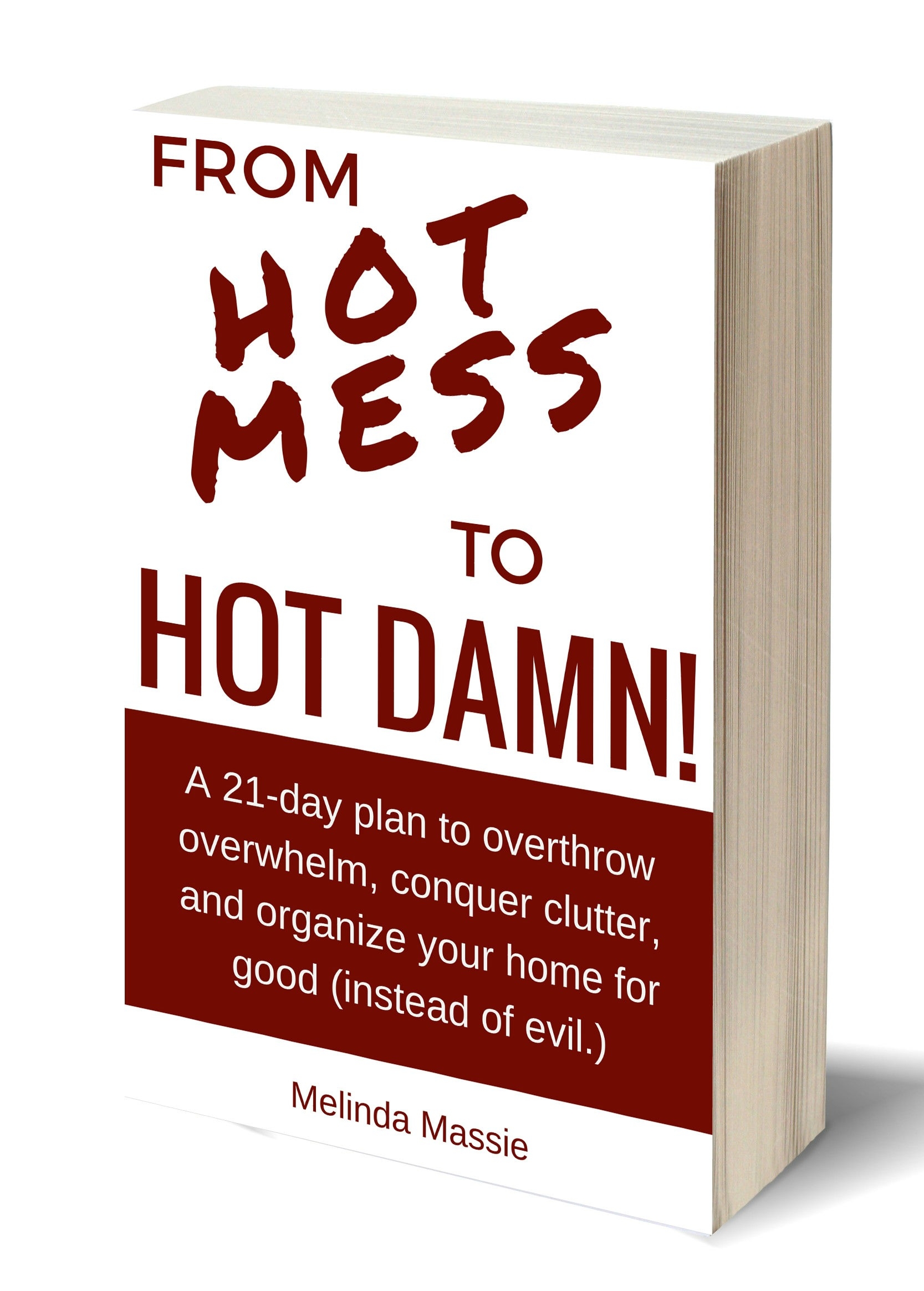 * A simple, step-by-step plan to help you clear clutter without forcing you to get rid of all your worldly possessions.
* Steps are broken down into easy 5-15 minutes chunks to fit into even the busiest schedules.
* Find your personal "sweet spot" between too cluttered and too tidy to maintain.
* Advice, guidance, motivation, and a dose of sass to keep you going through the entire process!
Would you rather not hAve to burn all of your worldly goods in a sacrificial fire to the Organizing Gods (dance optional) just to have an organized home?
When I first started my professional organizing business, I noticed something pretty significant:
The popular organizing rules don't always work very well.
Sometimes, they can even make the situation worse. (Insert dramatic music here.)
Through my years of working with clients, I honed a simple way to help clear clutter and create an organized home.
Even if you have oodles of clutter. Even if you've never been organized before.
From Hot Mess to Hot Damn! outlines the simple, straightforward process that's helped hundreds from the casually cluttered to haphazardly hoarded let go of the clutter and create an organized home.
This step-by-step process will walk you through clearing clutter without it becoming to chaotic or overwhelming. Then you'll organize your space in a way that works best for your particular needs.
When you're finished, your home will flow with ease.
What you'll learn:
The only ground rules you'll ever need to create and maintain a clutter-free and organized home.
The organizing rules you should break.
The specific process to clear clutter in such a way that you'll always see progress and stay motivated.
The parts of clutter clearing process that will suck - because forewarned is forearmed.
Questions to help you determine what stays and what goes.
Success tips to help you maintain your hard work for life!
Plus, you'll find links to bonus downloads that will help along the way.
This book is for you if:
You're ready to discover your personal organizing style.
You're ready to let go of what is no longer serving you. (Not everything...just what you no longer truly need.)
The popular organizing methods didn't work for you.
You feel like a lot of organizing advice and books are too judgmental or "preachy." I do too which is why I wrote this book!
(NOTE: if you're looking for hard-core minimalism this isn't the book for you, but I appreciate you giving this a look!)
From Hot Mess to Hot Damn! will help you find the sweet spot between "get rid of it all!" and "I give up!"
Whether you're tackling only the "spare room of doom" or an entire home filled with clutter up to your eyeballs, From Hot Mess to Hot Damn! will guide and motivate you every step of the way. In the end, you'll have created a home that you love and reflects your personal organizing style.
Turn your hot mess into a "hot damn!" No sacrificial fires needed.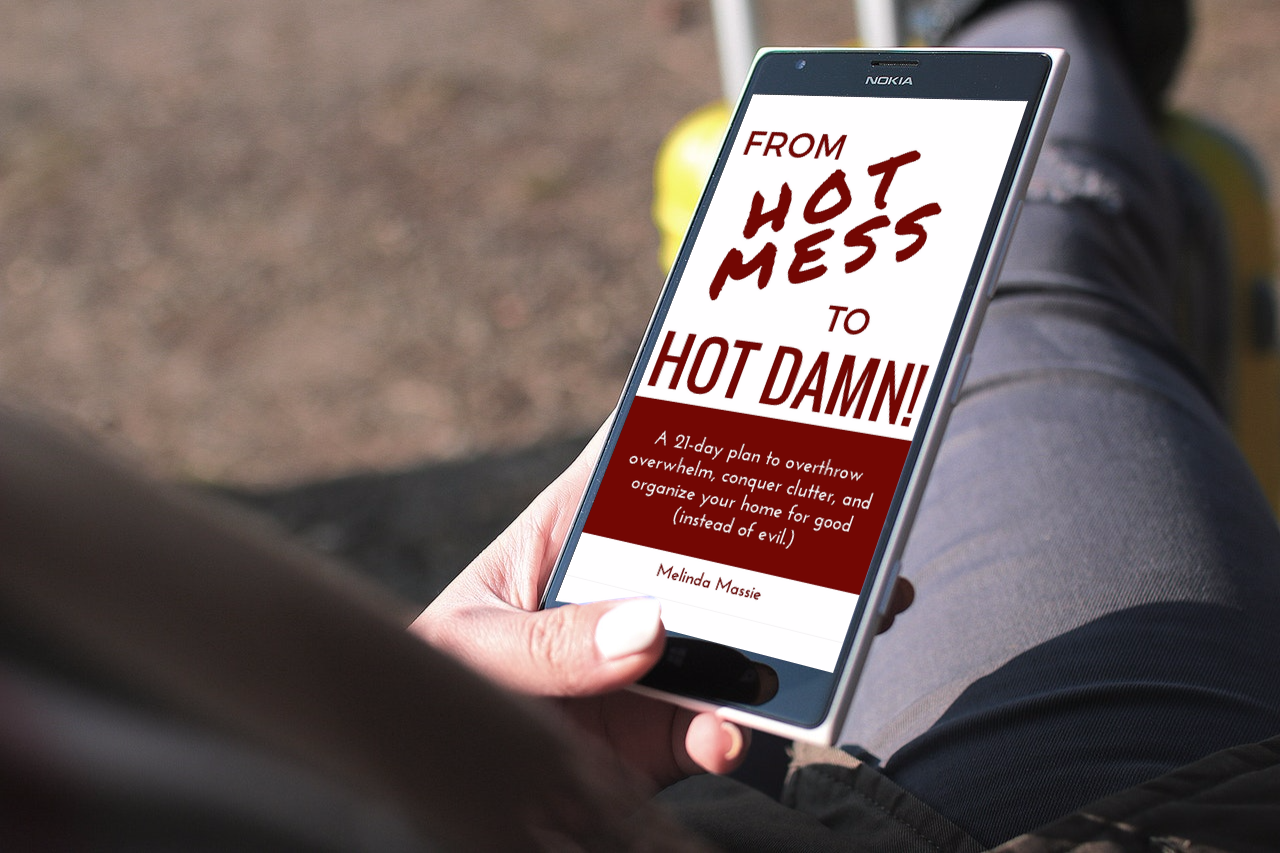 Ready to tame your hot mess once and for all?
Buy From Hot Mess to Hot Damn! today!
Also available at these retailers:
Want to get closet specific?